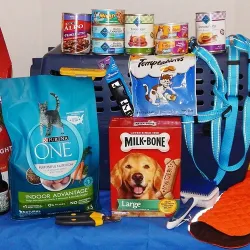 When you shop at our retail shelter store, you are not just getting great products for your pets, you are also supporting the animals in our care at the Humane Society of Fremont County. We have a diverse selection of pet supplies such as collars and leashes, Halti head collars, ID tags, pet food, used pet crates, and many other great surprises.
Our inventory is constantly changing, and we are always on the lookout for new and exciting items to offer. By shopping with us, you can rest assured that your purchase is making a difference in the lives of the animals we care for. Plus, if you adopt a cat or a dog, you will receive 10% off your entire retail purchase as our way of saying thank you for giving a loving home to one of our furry friends.
All proceeds from our retail shelter store go directly to supporting our programs and services, such as spaying and neutering, vaccinations, and medical care for the animals in our shelter. We are committed to providing the highest quality care to each and every animal that passes through our doors, and we rely on the generosity of our community to make that possible.
So the next time you need pet supplies, stop by our retail shelter store and take a look at our wide selection. You'll find great deals on quality items and you'll be making a meaningful contribution to our mission of helping animals in need.