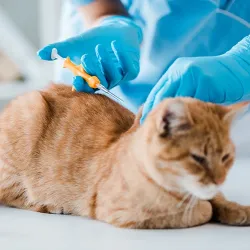 A pet microchip is a valuable tool for ensuring that your furry friend is quickly reunited with you if they become lost. At the Humane Society of Fremont County, we recognize the importance of this technology, which is why we offer affordable and accessible pet microchipping services to our community.
When an animal arrives at our shelter as a stray, we immediately scan the animal for a microchip. If a chip is found, we are able to contact the owner and reunite them with their pet. To help ensure that every pet is protected, we include a pet microchip with every adoption from our shelter.
---
Pet Microchip Cost
We offer lifetime enrollment microchips for only $40, which provides a lifetime of protection for your furry friend. Additionally, we offer low-cost $30 microchips on the 1st Friday, the 3rd Saturday, and 4th Tuesday of every month (dates may vary due to holidays), making it easy and affordable to protect your pet.
The implantation of a microchip is a quick and simple procedure, similar to a vaccine injection you might receive at your doctor's office. Our knowledgeable staff can implant and register your pet's chip in just a matter of minutes.
If your pet already has a microchip from another annual subscription service, we can transfer your chip to a lifetime enrollment for only $15 (this fee is not for the shelter but to pay the company to make the change). This ensures that your pet is protected for life, no matter where they are.
If your furry friend doesn't have a microchip yet, we encourage you to call the Humane Society of Fremont County today at (719) 275-0663 to schedule an appointment. Protecting your pet with a microchip is a simple and effective way to ensure their safety and well-being, and we are here to help you every step of the way.