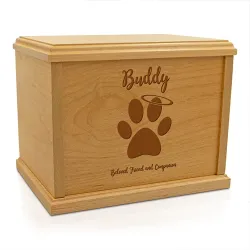 Pet cremation services are an important option for pet owners who want to say goodbye to their beloved animal companions in a meaningful way. At the Humane Society of Fremont County, we offer pet cremation services to help families honor their pets in a dignified and respectful manner.
Pet cremation involves the use of high heat to transform the remains of a pet into ashes. The ashes can then be returned to the owner, scattered in a favorite location, or used to create a memorial keepsake. The process of pet cremation is carried out with the utmost care and respect to ensure that the pet's remains are handled with dignity.
Pet cremation is a personal decision and is a way to honor the life and memory of a beloved pet. It can be a comforting way to cope with the loss of a pet and to remember the special bond that was shared.
PET Cremation Services
Cremation with disposal of body: $75.00
Cremation with return of remains: $150.00
---
Animals Irremediably Suffering
At the Humane Society of Fremont County, the well-being of every animal in our care is of utmost importance. While we do not have a veterinarian on staff, we are committed to ensuring that any animal requiring medical attention receives the proper care.
In cases where euthanasia is necessary for a shelter-owned animal, we will transport the animal to our veterinarian's clinic, where the procedure will be carried out under the guidance of a licensed veterinarian. We do not perform euthanasia on the Humane Society premises.
For animals that are irremediably suffering, we do accept them for euthanasia. However, since we will transport the animal to our veterinarian's clinic, the owner will be charged the amount that the veterinarian will charge the shelter to perform the euthanasia. It's important to note that our shelter does not provide convenience euthanasia. This means that we will never euthanize a healthy animal with a treatable illness or behavior issue or because it is convenient for the owner.
In the event of a medical emergency, we encourage pet owners to contact their local veterinarian for immediate assistance. At the Humane Society of Fremont County, we are committed to providing the highest level of care for every animal in our community.