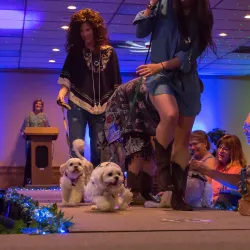 Rescue Runway is an annual event that has become synonymous with style, compassion, and making a difference. Since its inception, Rescue Runway has evolved from a unique idea to a beloved tradition in Fremont County, capturing the hearts of residents and animal lovers alike.
At Rescue Runway, we believe in the power of fashion to transform lives. Every dollar raised at our event goes directly towards supporting the medical expenses of the Humane Society of Fremont County. This crucial funding allows us to provide comprehensive care and treatment to every sick or injured animal that comes our way. Together, we are making a tangible impact on the lives of these vulnerable creatures.
Over the years, Rescue Runway has grown in scale and ambition. We constantly seek to bring something new and exciting to our event, ensuring that each year surpasses the last in terms of innovation and inspiration. Our ultimate goal is to create an unforgettable experience that leaves a lasting impression on our attendees.
Where Fashion Meets Compassion
Behind the scenes, a dedicated team of individuals works tirelessly to bring Rescue Runway to life. Led by Doug Rae, our Executive Director, and supported by a passionate group of volunteers, we are driven by our shared commitment to animal welfare. We are deeply grateful to our generous sponsors, partners, and attendees, whose support enables us to continue our mission and elevate the impact of Rescue Runway.
Central to the essence of Rescue Runway is our partnership with Barn & Barrel. Through their generous contributions, Dan and Tracy Vinton provide the fashionable clothing that adorns our models on the runway. Their dedication and creativity bring an extra touch of elegance to our event, symbolizing the intersection of fashion and animal welfare.
Join us at Rescue Runway as we continue to make history, year after year. Together, we can create a world where style and compassion unite to transform the lives of animals in need. Stay tuned for updates and announcements about our upcoming event, and be part of this remarkable journey.