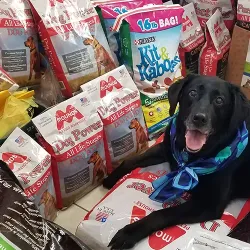 We are incredibly grateful for any help in keeping our shelter running and caring for our beloved animals. If you are looking for ways to contribute, we accept in-kind donations of a variety of items that are used regularly at our shelter. These include postage stamps, dry dog treats, pet crates (both new and gently used), collars and leashes for both dogs and cats, and any lightly used items that can be sold in our Annual Yard Sale.
We also have preferred brands of dog and cat food that we use regularly, including Pro Plan, Nutro Max, Wellness, Blue Buffalo, Taste of the Wild, Merritt, and 4-health for dog food, and Nutro Max, Blue Buffalo, 4-Health, and Blue Buffalo Wilderness (no food containing red dye 40) for cat food. Additionally, we request towels (but no blankets, please) to help keep our animals clean and comfortable.
By donating any of these items, you are providing essential supplies to help us care for the animals in our shelter. Your generosity and support are greatly appreciated and help make a difference in the lives of countless animals in need.
---
Items Needed Most
Items used on a regular basis include:
Postage stamps
Dog food. Preferred brands: Pro Plan, Nutro Max, Wellness, Blue Buffalo, Taste of the Wild, Merritt, and 4-health.
Cat food. Preferred brands: Nutro Max, Blue Buffalo, 4-Health, Blue Buffalo Wilderness

(no food containing red dye 40)

Dry dog treats
Towels (no blankets, please)
Pet crates (new or used)
Collars and leashes for both dogs and cats
Any lightly used items that can be sold in our Annual Yard Sale